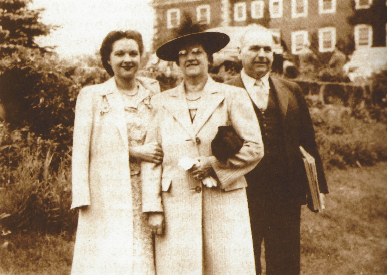 Our generous friends who join The Maine Society are investing in the Library's future through a planned gift.  
The Maine Society is named after a beloved Mystic doctor, Dr. Thurman P. Maine, and his wife.
Dr. Maine was a well-respected general pracitioner who died in a tragic car accident in 1945 enroute home from a house call in Stonington. He was just 57 years old. His wife Harriet was an active member of the Mystic community and mother of their four children.
One daughter, Ruth Maine Goldsmith, bequeathed to the Library most of her estate in her beloved parents' memory. To honor this most generous gift, the Mystic & Noank Library named its planned giving society The Dr. Thurman P. and Harriet M. Maine Society, or simply, The Maine Society.
For more information, please reach out to the Development Lead Ellen Warfield at (860) 536-7721 or ewarfield@mysticnoanklibrary.org. The Library's tax ID # is 06-0709292 
Photo: Ruth M. Goldsmith (1919-2007) with her mother Harriet Miner Maine and father Dr. Thurman P. Maine.