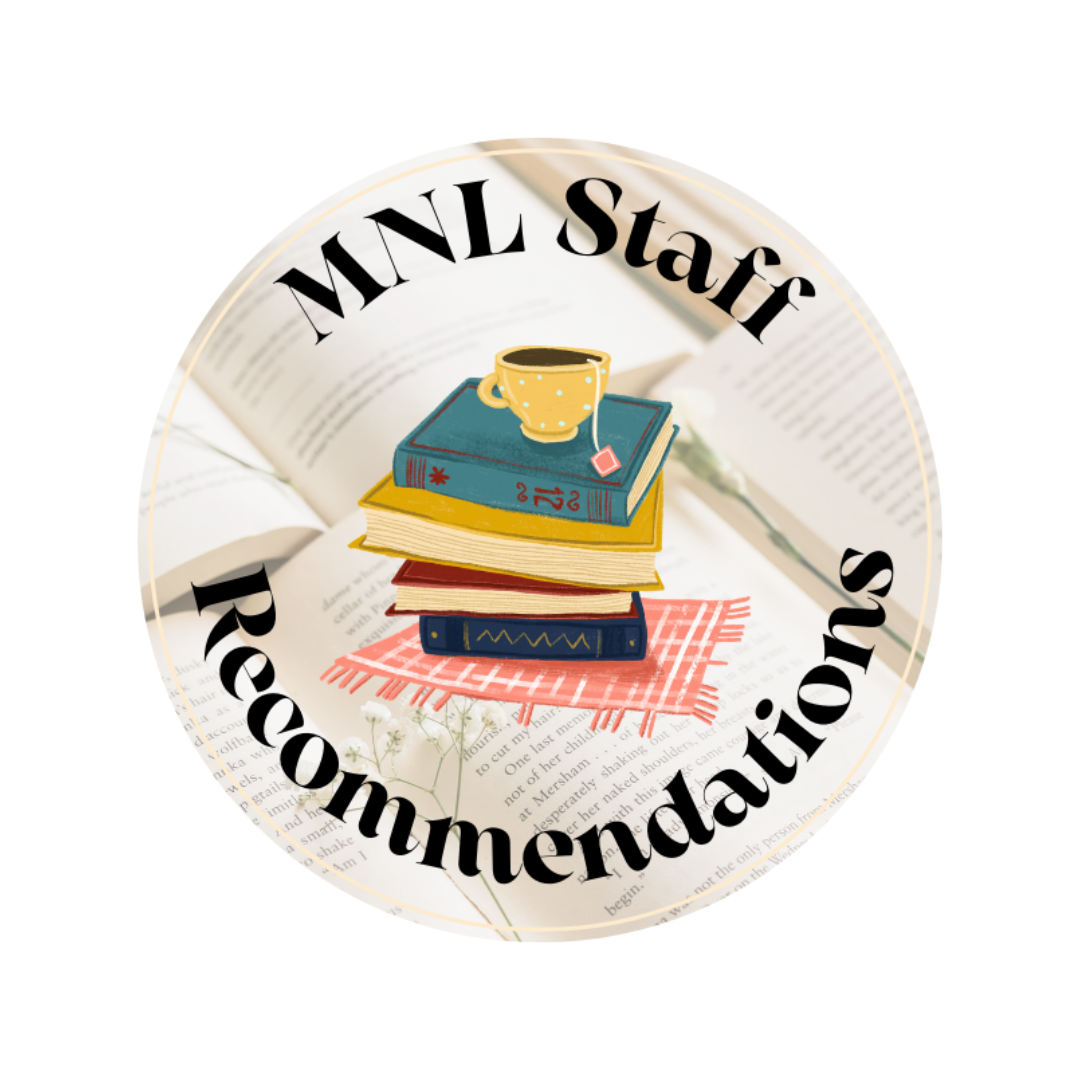 December 2023
Chris: Yellowface by R. F. Kuang - "A send-up of the publishing industry and contemporary mores."
Roberta: The Caliph's House by Tahir Shah
Ellen: When We Cease to Understand the World by Benjamin Labatut - "History and fable, a winding narrative of pure genius."
Becca: Magic For Liars by Sarah Gailey - "A detective is hired to investigate a murder at her twin sister's campus--a boarding school for the magically gifted. Otherworldly, atmospheric, and unputdownable."
Leslie: Handmade Scandinavian Christmas by Hege Barnholt
Philip: A Walk Through the Year by Edwin Way Teale. "He walks through Nature each day of the year.  Beautifully, poetically written, it is my single most favorite book."
November 2023
Chris: Trust by Hernan Diaz - "2022 Pulitzer prize winning novel by Hernan Diaz set in New York of the twenties and thirties amid the trappings of the social and financial elites."
Margaret: Black Sheep  Rachel Harrison - "Vesper Wright thought she left her devoutly religious family behind her, until a wedding invitation draws her back in... Soon, secrets are revealed that leave Vesper questioning her faith, family, and everything she knows about herself. "
Ery: Just Kids by Patti Smith - "A romantic and at times tragic retelling of the many intersecting paths of poets, musicians, and artists in late 60s NYC."
Katie: Stay True by Hua Hsu - "A beautiful reflection on friendship and grief centered around coming-of-age in the Bay Area. This memoir just won the Pulitzer Prize in Non-Fiction."
October 2023
Chris: Remarkably Bright Creatures by Shelby Van Pelt - "The story of a widow's unlikely connection with a giant Pacific octopus."
Margaret: The Blonde Identity by Ally Carter - "This action packed rom-com about a woman with amnesia mistaken for her spy twin sister and is forced to team up with a stoic operative in order to stay alive is equal parts hilarious and heartwarming." Margaret
Parker: Home Before Dark by Riley Sager -  "It's super suspenseful and keeps you turning the page! Get ready for a lot of twists and turns at the end too!"
Julie: The Strangler Vine by M.J. Carter  "Calcutta 1837. Young British officer William Avery joins the mysterious Jeremiah Blake to search the jungles of central India for disgraced poet/spy Xavier Mountstuart, where they encounter death, danger, and treachery on all sides."
Ellen: The Lying Life of Adults by Elena Ferrante - "Written by the author of the "Neapolitan Novels', which developed a cult following, Ferrante's writing is cherished for good reason. The immediacy and tremors of youth and love come rippling through the pages for me, taking us right into the life of the narrator, who is navigating family and growin up in Italy."
Philip: Ghostland:   An American History in Haunted Places, by Colin Dickey - "We can travel throughout the states with him.  And we don't even have to leave our chairs to spook ourselves."
Becca: The Southern Book Club's Guide to Slaying Vampires by Grady Hendrix - "An addictive horror novel set in the 90s that follows the lives of five suburbanite, true-crime loving, housewives determined to expose a predatory vampire" 
September 2023
Chris: The Heaven and Earth Grocery Store by James McBride - "McBride is such a good writer, and this new book is just what the NYT said , 'a murder mystery locked inside a Great American Novel'!"
Roberta: I Should Have Stayed Home : The Worst Trips of Great Writers by Roger Rapoport 
Becca: Big Swiss by Jen Beagin - "An odd window into the lives of two women living with trauma in radically different ways--compelling, funny, and relatively unhinged."
Katie: Tom Lake: A Novel by Ann Patchett - "A story about family, love and theater set on a cherry orchard in Northern Michigan. This story is cozy and familiar and the audiobook is read by Meryl Streep."
Julie: A Year in the Life of William Shakespeare, 1599, by James Shapiro -  "It discusses the cultural and political forces at work during the year that Shakespeare was writing Henry V, Julius Caesar, As You Like It, and Hamlet."
Ellen: Sapiens : A Brief History of Humankind by Yuval Noah Harari - "I think everyone should read this, as knowing where we come from can help inform better choices in the future."
August 2023
Parker: Remarkably Bright Creatures by Shelby Van Pelt - "Remarkably Bright Creatures is a sweet story about forming the most unlikely of friendships and navigating through grief. It even includes some personal accounts from an octopus named Marcellus living in an aquarium. There's a true smorgasbord of personalities in this lovely read!"
Leslie: Planting : a new perspective on combining plants using design and ecological principles - "Piet Oudolf is a Dutch garden designer, nurseryman and author. He is a leading figure of the "New Perennial" movement – his designs and plant compositions using bold drifts of herbaceous perennials and grasses which are chosen at least as much for their structure as for their flower color. His landscape design is  very similar to my own  and has brought me more confidence in my perspective on garden design. His gardens appear free flowing and meadow inspired however each plant has been  purposefully placed to achieve a certain balance."
Katie: Love in the Big City by Sang Young Park - "Recently translated from Korean, this is a sharp and glittering story about love, friendship and coming of age in modern day Seoul."
Chris: What the Eyes Don't See by Mona Hanna-Attisha - "What the Eyes Don't See by Mona Hanna-Attisha is the twenty first One Book One Region Pick, about the water crisis in Flint, MI."
Ellen: A Room of One's Own by Virginia Woolf - "A lyrical study on feminism, how far we have come and how far yet to go."
July 2023
Chris: Tender Mercies by Dennis Lehane - "His latest ode to working class Boston is set during the school bussing of the early Seventies, and peopled with memorable characters from the Southie projects."
Katie: Fight Night by Miriam Toews - "An incredibly funny story narrated by 9 year old Swiv as she navigates the world alongside her spunky grandma. Both reflective and adventurous, you'll love every second!"
Ellen: The Magic Kingdom by Russell Banks - "Hard to believe but true that where DisneyLand sits in Florida was once a Shaker community. This book is a languorous blending of history and fiction into a tale of religious fervor and romance that could only happen in America."
Julie: Frenchman's Creek by Daphne Du Maurie - "This classic gothic romance is a great summer read."
Becca: Legends & Lattes by Travis Baldree - "A slow, meandering, story that will lull you to sleep in the sweetest way". 
June 2023
Chris: Covenant of Water by Abraham Verghese
Julie: The Last Remains by Elly Griffiths
Becca: A Psalm for the Wild-Built by Becky Chambers - "This book is a big ol' hug, it's a warm cup of tea, it's a salute to the millions of individuals out there who can't seem to find their way."
Ery: Wild Seed by Octavia Butler - "A gripping sci-fi/fantasy story that provokes questions about power, ownership, and freedom in an early American landscape that echoes but is not quite our own
May 2023
Chris: Romantic Comedy by Curtis Sittenfeld
Julie: Stella Maris by Cormac McCarthy
Philip: Swerve by Stephen Greenblatt - "
We are all about atoms and void, and nothing else.
We are here by chance.  So we must make the most of it.
"Swerve" is a wonderful explication of the ancient Roman Lucretius's poem, "On the Nature of Things."
It should be the bible we should all read as youngsters.
Sweet splendor."
April 2023
Philip: Sargent's Women: Four Lives Behind the Canvas by Donna M. Lucey - "My!, what art does conceal.  The lives of these four women were just the opposite of my idea of art.  Just to survive, they had to be strong characters, strong personalities.  And they were.  Each one embodied an individual independence throughout their imprisoned lives of suffering.  Anyone who thinks being born to the wealthy is a pretty piece of cake should read this book.  And a readable book it is.  The narrative flows smoothly.  It draws one's mind along with interest and anticipation. It is also an astute portrait of the artist John Singer Sargent, and how he worked professionally."
Parker: Before the Coffee Gets Cold by Toshikazu Kawaguchi - It's a short, fun, and heartwarming read about a time traveling café in Japan!"
Roberta: Old Mr. Flood by Joseph Mitchell
March 2023
Chris: The Eight by Katherine Neville "A quest in which the heroine tries to recover a legendary chess set once owned by Charlemagne."
Julie: Descartes' Bones by Russell Shorto "Shorto investigates Enlightenment history by focusing on Rene Descartes, whose twin enemies were "authority...and fuzzy thinking."
Katie: How to Do Nothing by Jenny Odell 
Philip: Papyrus: the Invention of Books in the Ancient World by Irene Vallejo "[This book] reveals how writing came about, and how the papyrus plant was harvested, and prepared for use to write on. And I learned that, today, in our present world, a new book is published every half-minute!"
February 2023
Chris: Counterfeit by Kirstin Chen - "Entertaining contemporary story of a woman who gets caught up in a knockoff scam."
Parker: I'm Glad My Mom Died by Jennette McCurdy
Becca: How to Sell a Haunted House by Grady Hendrix - "A terrifying window into one family's experience with their mother's favorite puppet, Pupkin; nightmare fuel."
Katie: Checkout 19 by Claire-Louise Bennett - "A fun & chaotic novel about a London writer & the eccentric characters she creates."
Julie: The Mandelbaum Gate by Muriel Spark - " In her lovely prose, Spark details the intrigues and adventures of Barbara Vaughan, an English schoolteacher, and a cast of archaeologists, diplomats, spies, and scallywags."
Ery: Atlas of the Heart, Brené Brown - "Helpful research-based exploration of emotions and how our awareness of them can lead to healthier conversations, relationships & lives."
Philip: The World Broke in Two by Bill Goldstein. - "This takes off from a remark that the American novelist Willa Cather made about the year 1922 when both Joyce's "Ulysses," and Eliot's, "The Wasteland," were published."
January 2023
Chris & Katie: Demon Copperhead by Barbara Kingsolver
Becca: Middlegame by Seanan McGuire - "A dark fantasy driven by alchemy and emotional bonds."
Katie: Happy Hour by Marlowe Grandados - "This book is like if Lucia and Mia from White Lotus lived in New York City in 2013."
December 2022
Leslie: The Almost Nearly Perfect People by Michael Booth
Chris: Properties of Thirst by Marianne Wiggins
Julie: Every Man Dies Alone by Hans Fallada
Becca: A Queen in Hiding by Sarah Kozloff
Katie: The Rabbit Hutch by Tess Gunty
November 2022
Chris: Confidence Man by Maggie Haberman
Julie: To Calais, In Ordinary Time by James Meek
Philip: Whereabouts:  Notes on Being a Foreigner, by Alastair Reid, and, Orwell's Roses by Rebecca Solint
October 2022
Katie: The Stars Did Wander Darkling by Colin Meloy
Katherine: A Discovery of Witches by Deborah Harkness
Rebecca: Little Eve by Catriona Ward
Roberta: The Door of No Return by Kwame Alexander
Julie: The Invited by Jennifer McMahon
September 2022
Becca:  Plain Bad Heroines by Emily M. Danforth
Katie: Piranesi by Susanna Clarke
Roberta: Remembering Poets by Donald Hall
Julie: A Cold Day in Paradise by Steve Hamilton
Philip: Decision at Delphi by Helen MacInnes
August 2022
Roberta: The Longest Silence by Tom McGuane
Katie: Either/Or by Elif Batuman
Olivia: Circe by Madeline Miller
Becca: Just Like Home by Sarah Gailey
Julie: The Human Factor by Graham Greene
July 2022
Chris: The Old Man by Thomas Perry 
Roberta: This Old Man: All in Pieces by Roger Angell
Katie: The Witch's Hand by Nathan Page
Parker: 28 Summers by Elin Hilderbrand
Olivia: The Four Winds by Kristin Hannah
Julie: The Mandelbaum Gate by Muriel Spark
Ery: The Memory Librarian by Janelle Monáe
June 2022
Chris: City on Fire by Don Winslow and
Both/And A Life in Many Worlds by Huma Abedin.
Katie: The Lady Rogue by Jenn Bennett
Julie:  To Paradise by Hanya Yanagihara
Rebecca: The Children on the Hill by Jennifer McMahon
Parker: The Craft of Cocktail by Dale DeGroff 
Olivia: The Nightingale by Kristin Hannah
Ery: Body Work by Melissa Febos
Roberta: Cress Watercress by Gregory Maguire
May 2022
Chris: The Golden Couple by Greer Hendricks
Katie: Heartstopper Vol. 1 by Alice Oseman
Olivia: Time Traveler's Guide to Elizabethan England by Ian Mortimer
Julie:  To Paradise by Hanya Yanagihara
April 2022
Chris: There is Nothing for You Here by Fiona Hill
Katie: Bewilderment by Richard Powers
Philip: Braiding Sweetgrass, by Robin Wall Kimmerer
Olivia: Elizabeth of York: A Tudor Queen and Her World by Alison Weir
Julie:  The Last Gift by Abdulrazak Gurnah
Parker: Daisy Jones & The Six by Taylor Jenkins Reid
March 2022
Chris: Mountains Beyond Mountains: the Quest of Dr. Paul Farmer, A Man who Would Cure the World by Tracy Kidder. 
Katie: I Must Say by Martin Short
Parker: Not All Diamonds and Rosé by Dave Quinn
Olivia: Pastoral Song: A Farmer's Journey by James Rebanks
Roberta:  Watercress by Andrea Wang Illustrated by Jason Chin